# Update Notes: Archive
# 11/16/2021: ShortDeck support
Freebetrange now fully supports 6+ Holdem.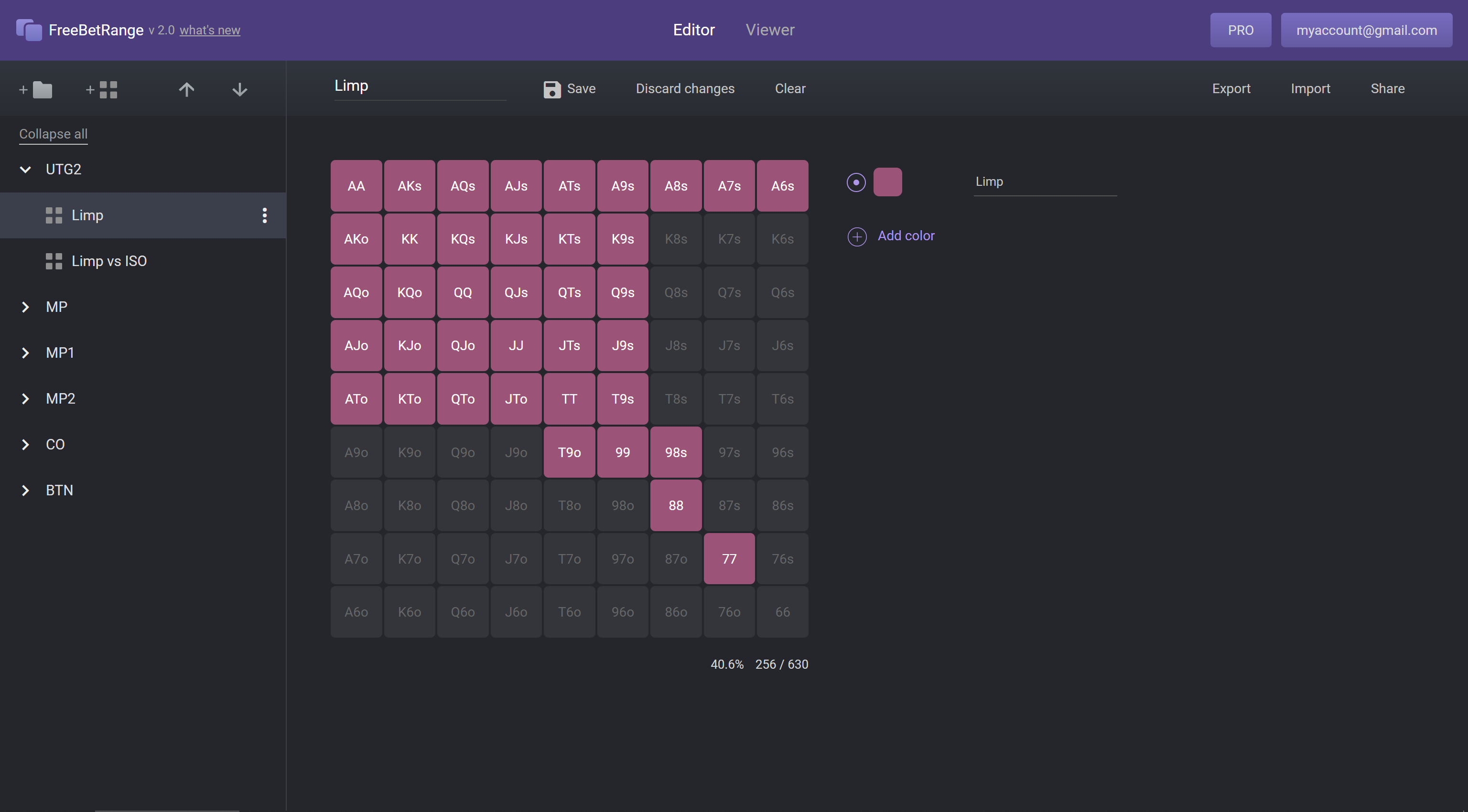 When creating a range, you can choose the game format: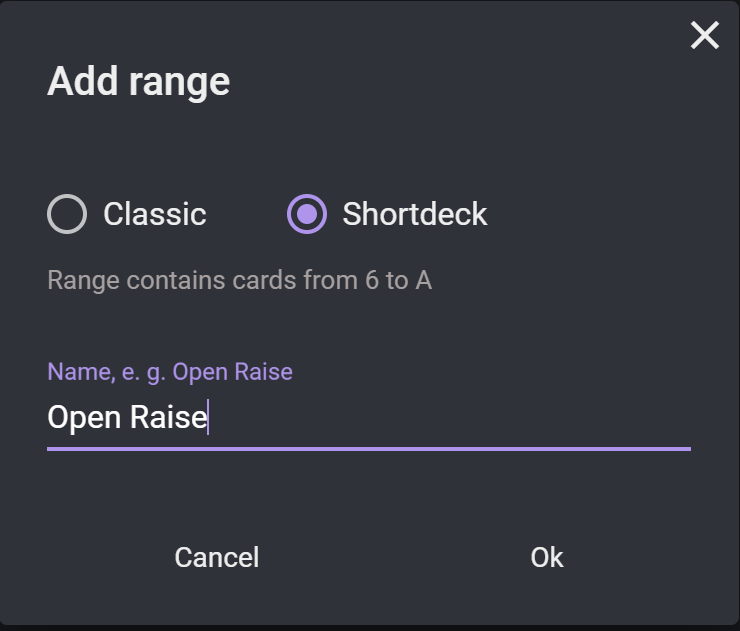 # 11/02/2021
# 1. "Delete unused colors" button
Use this button to quickly purge color items that are not used for any hand cell in the matrix.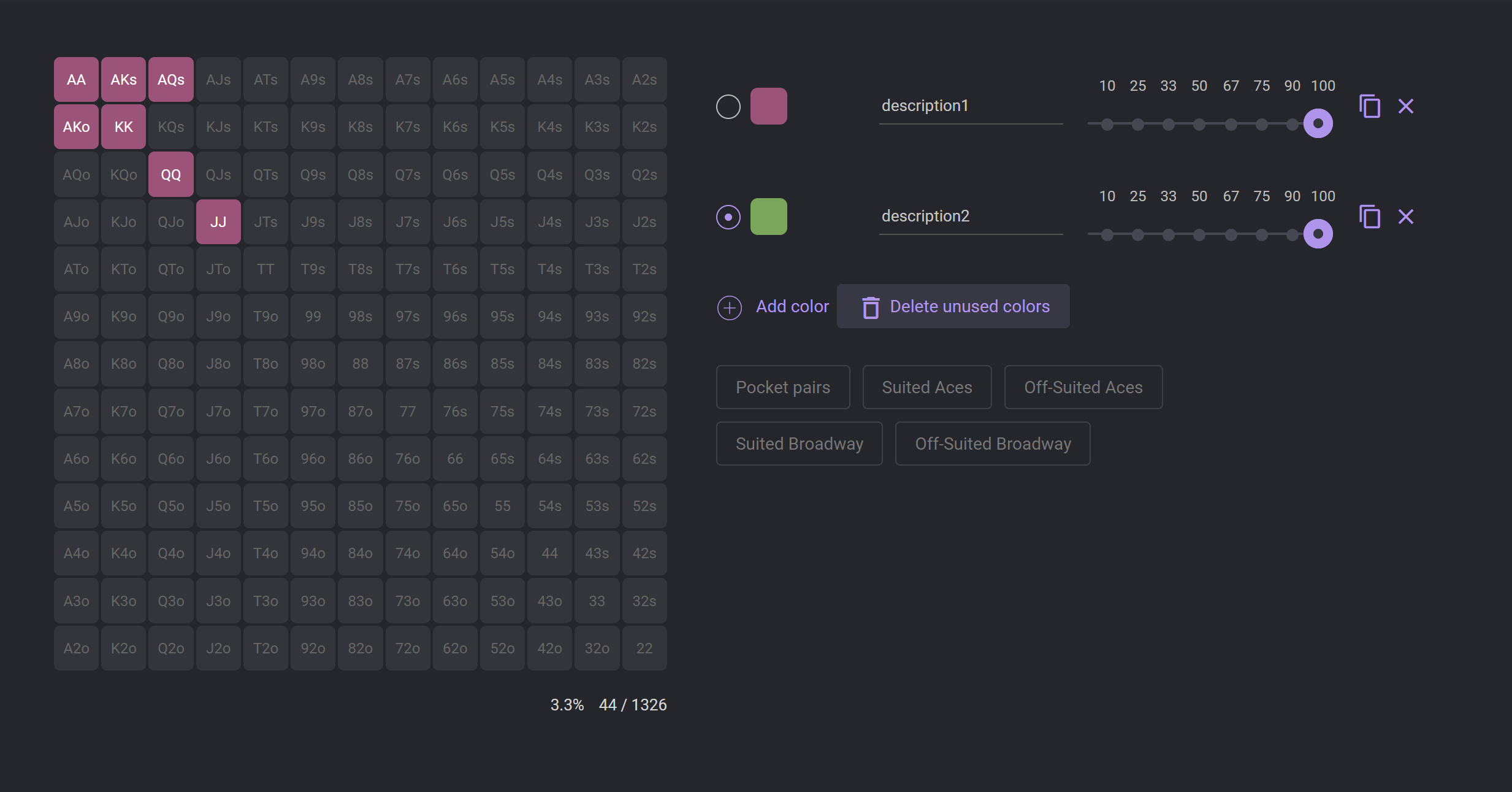 The button is displayed only if you have unused colors in the current range.
# 09/27/2021
# 1. Visa / Mastercard payments
You can now purchase PRO license using your card. Payments are processed through Stripe (opens new window).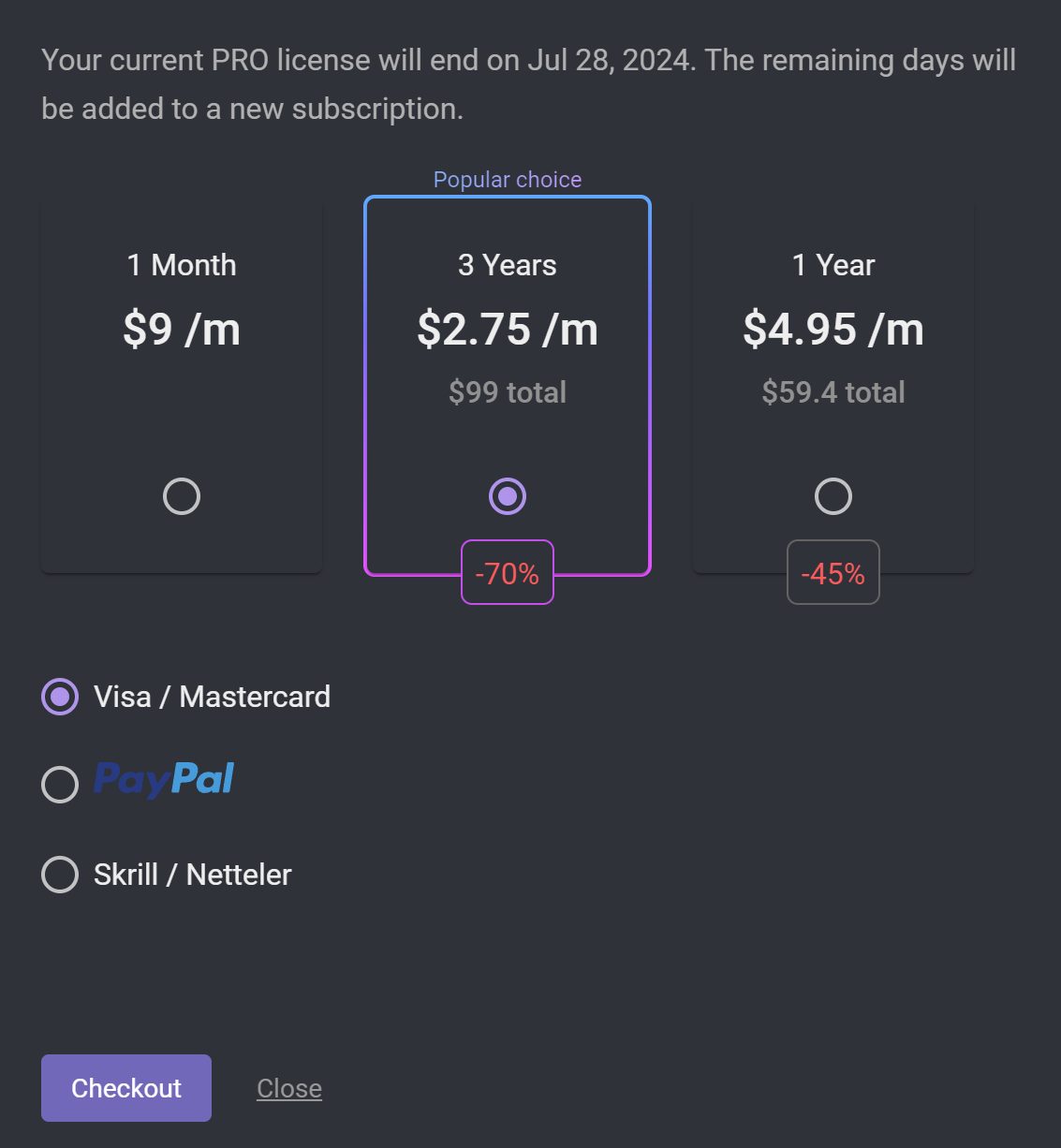 You can now make a protected copy of your configuration for the specified users only. The other users won't be able to import it even if they get the .fbrange file.
Also, now you can select the specific folders and ranges to export.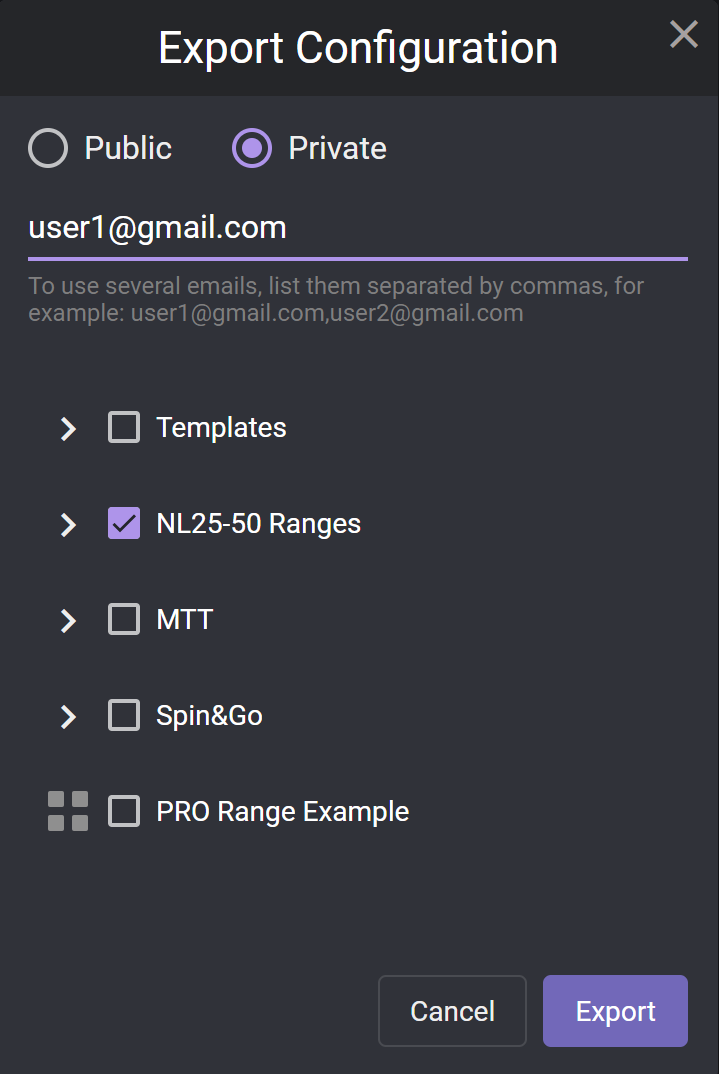 It's also possible to export the specific folder right from the context menu of that folder.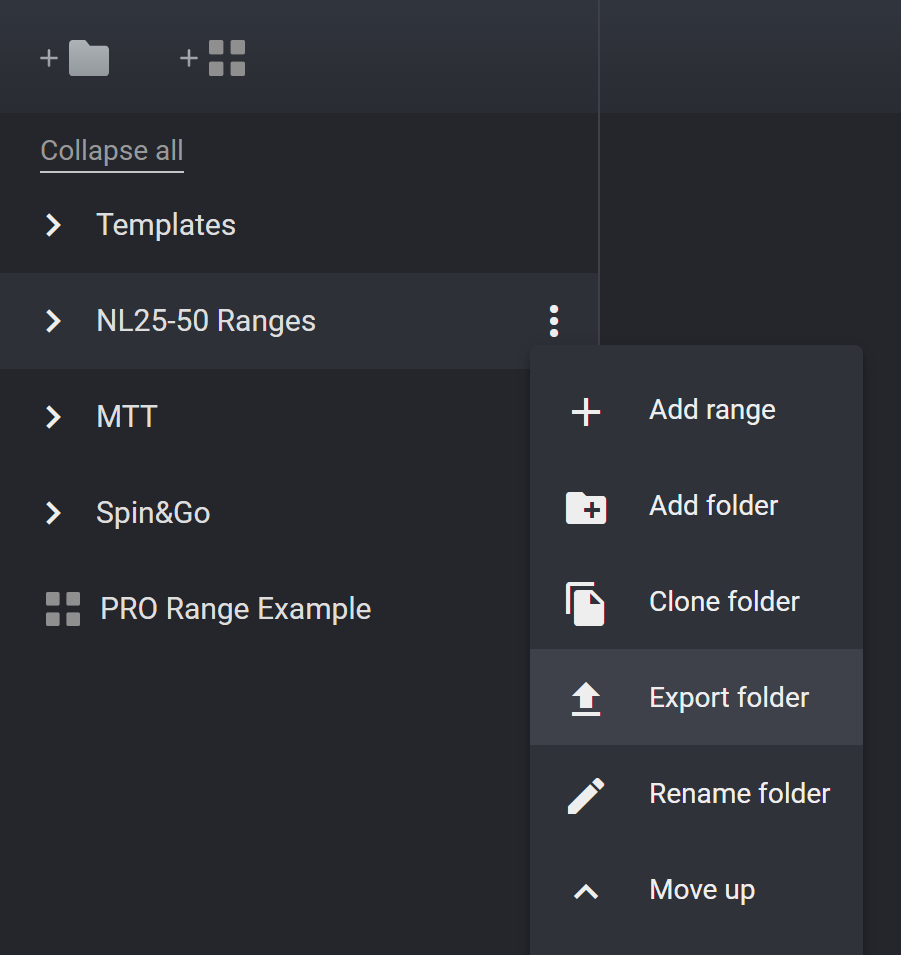 # 3. Maximum ranges number increased
Now you can create up to 5000 ranges in Editor (previously 1000).
Bug fixes + new formats supported
# 5. Small UI updates
On the Viewer page, when you hover over a range or folder which name isn't fully displayed, you can see a tooltip with a full name.
Tooltips with frequencies are now displayed for all the cells when hovering over them.
# 6. Live chat support
Feel free to contact our live chat support every day at 10:00 - 21:00 GMT.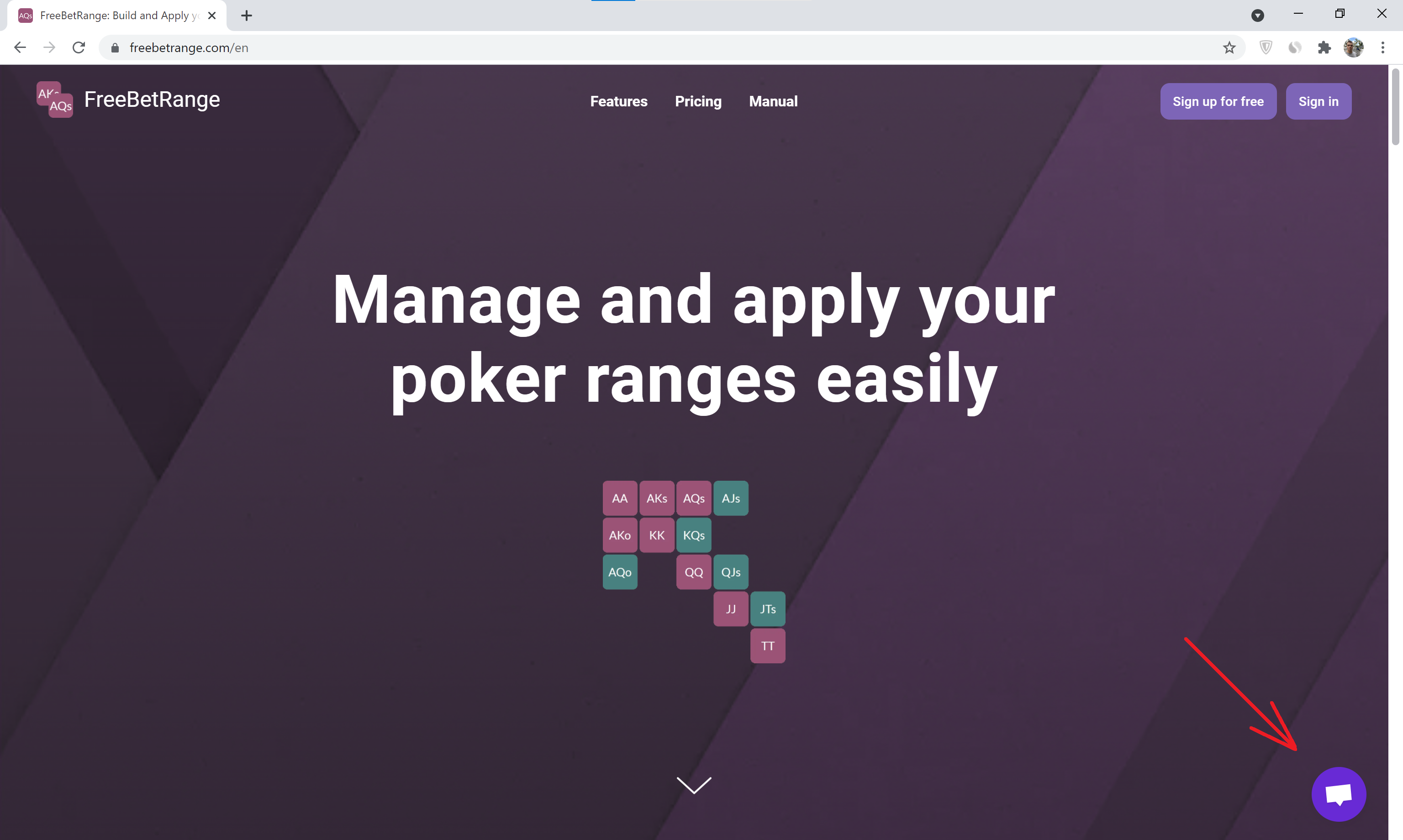 Don't forget to also join our Discord community (opens new window). We respond to all user requests there as well.
# 08/27/2021
# 1. Viewer (formerly Demo) update
You can now switch between horizontal and vertical layout, adjust ranges and folders styles, and use automatic randomizer update. Learn more...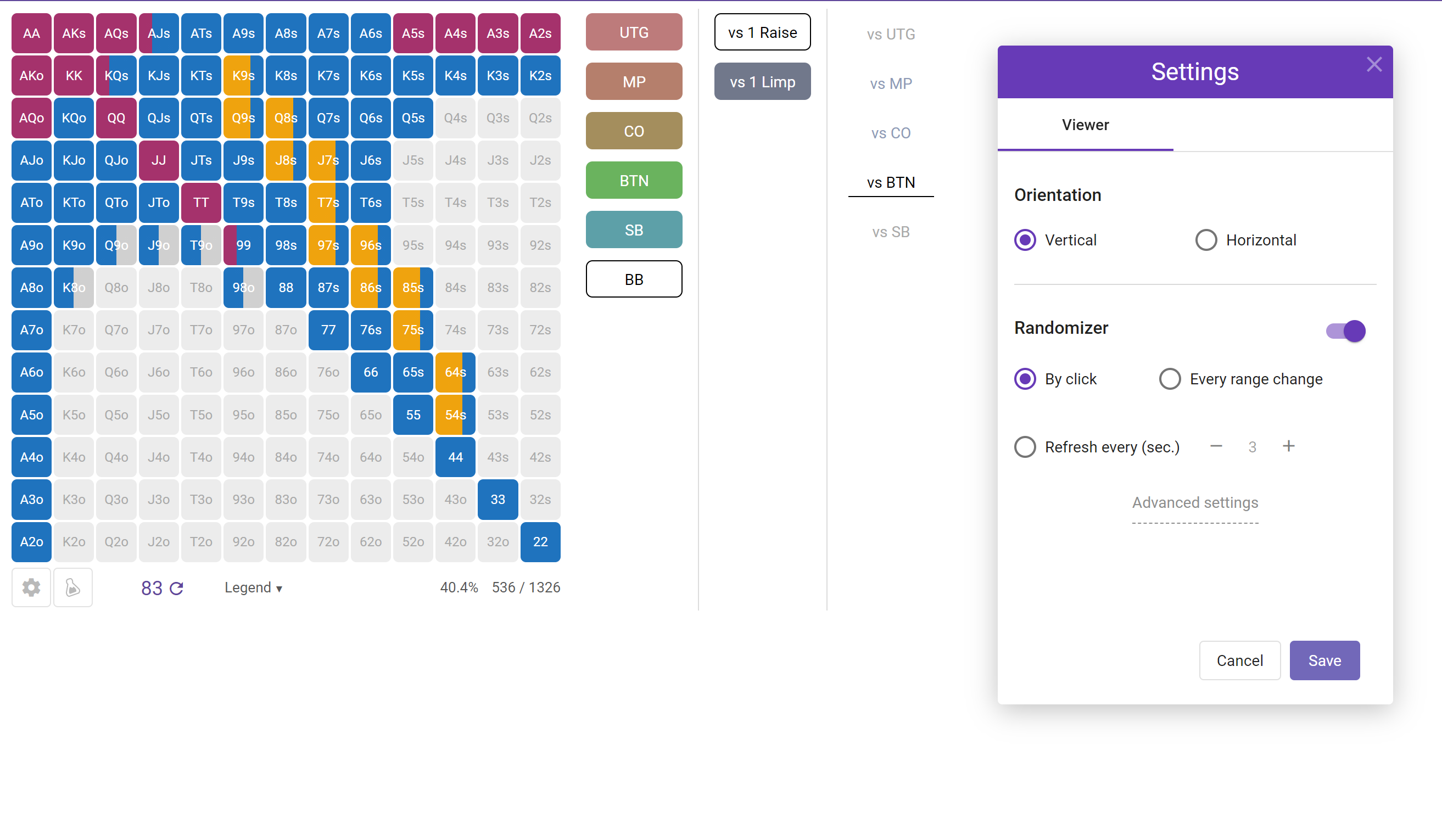 # 2. Import bug fixes
Some issues were fixed when importing ranges from Piosolver and other poker software.
# 07/13/2021
# 1. Export ranges in text format
Ranges can now be quickly and conveniently exported for use in other poker apps. Learn more about export feature...
# 2. Import from HRC, Power Equilab, Piosolver
Now you can import ranges also in the formats of the listed apps.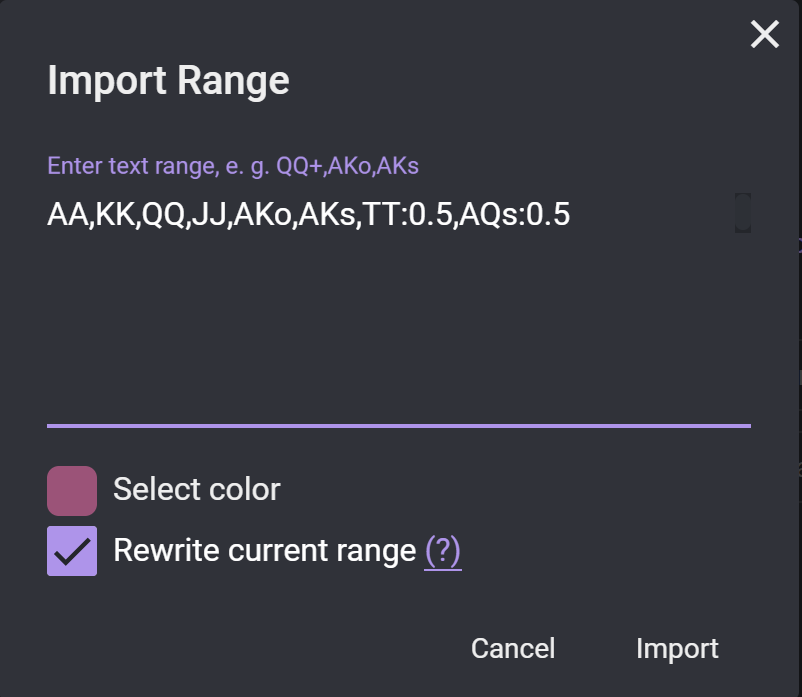 # 07/07/2021
# 1. Colors system update
Now you can assign up to 3 colors to one cell. Also, the background of the inactive part of the cell now automatically adjusts to the selected theme.
Light / Dark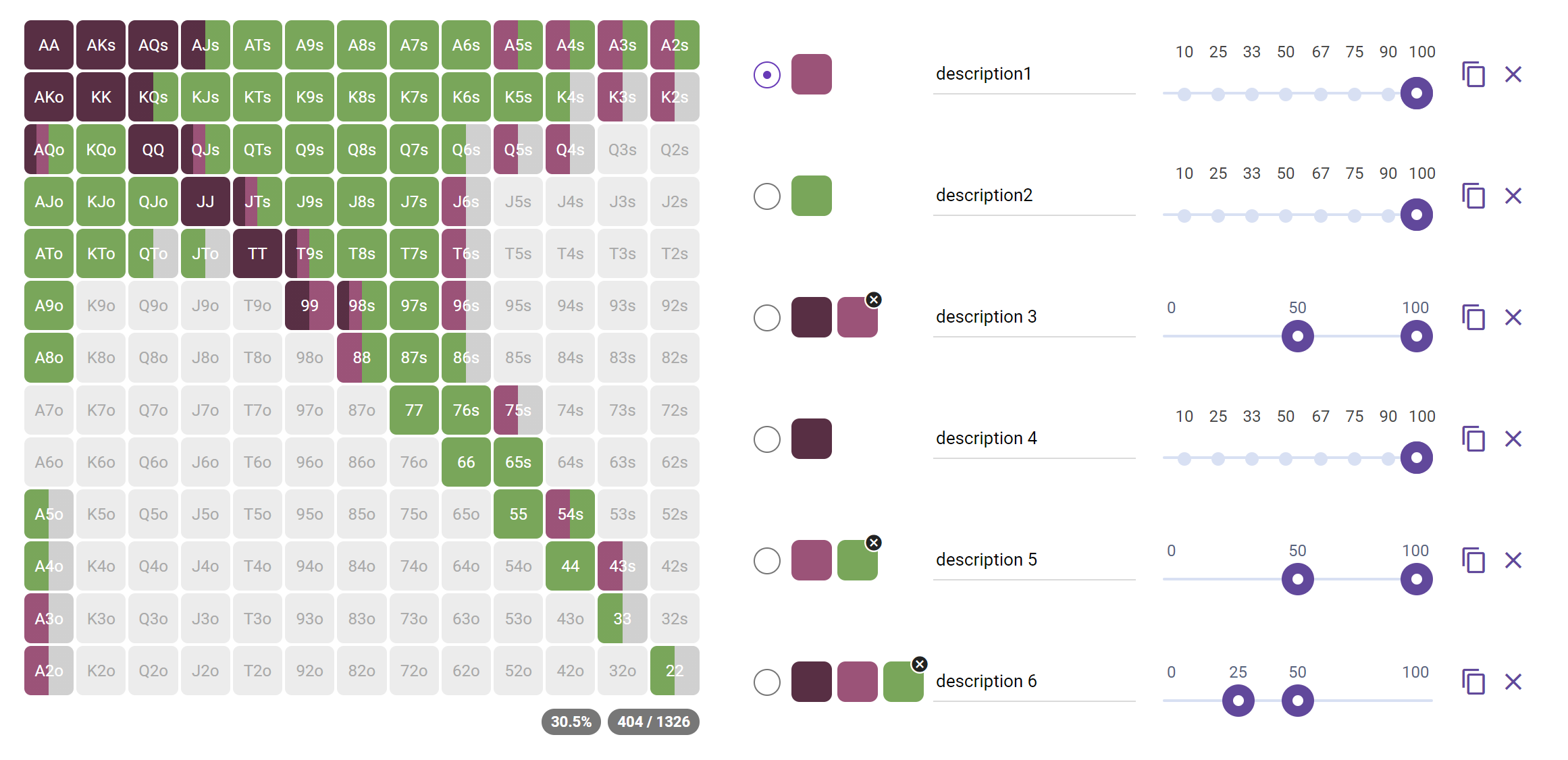 # 2. Moving bug fixed
On some accounts, there was a problem with moving ranges/folders up and down. The issue has been fixed.
# 06/13/2021
# 1. New 3-year PRO license option
We've added a new subscription plan with a more affordable price - only $2.75 per month. In addition, there is a special summer promotion until the end of June. You can purchase a subscription with a 10% discount using NICKJAMES10 coupon.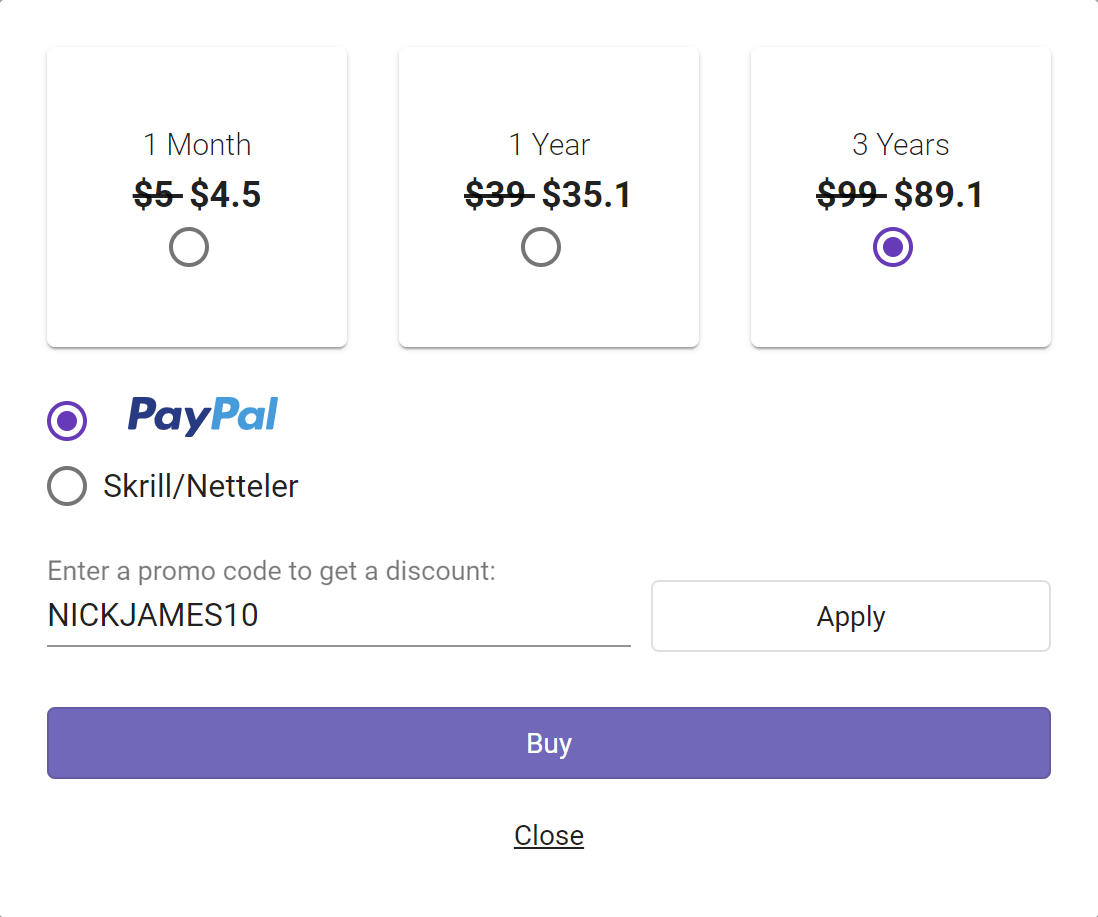 # 2. Affiliate system
The development of the affiliate system has been completed, and we are pleased to offer partnerships to coaches, streamers, schools, stables and just members of the poker community. Contact us.
# 3. Transparent cell color bug fixed
Previously, when creating a weighted cell with a transparent color, there were problems with range saving.
# 05/26/2021
# 1. "Show/Hide legend" button
At the request of many users, we made it possible to hide the color legend on the Viewer page.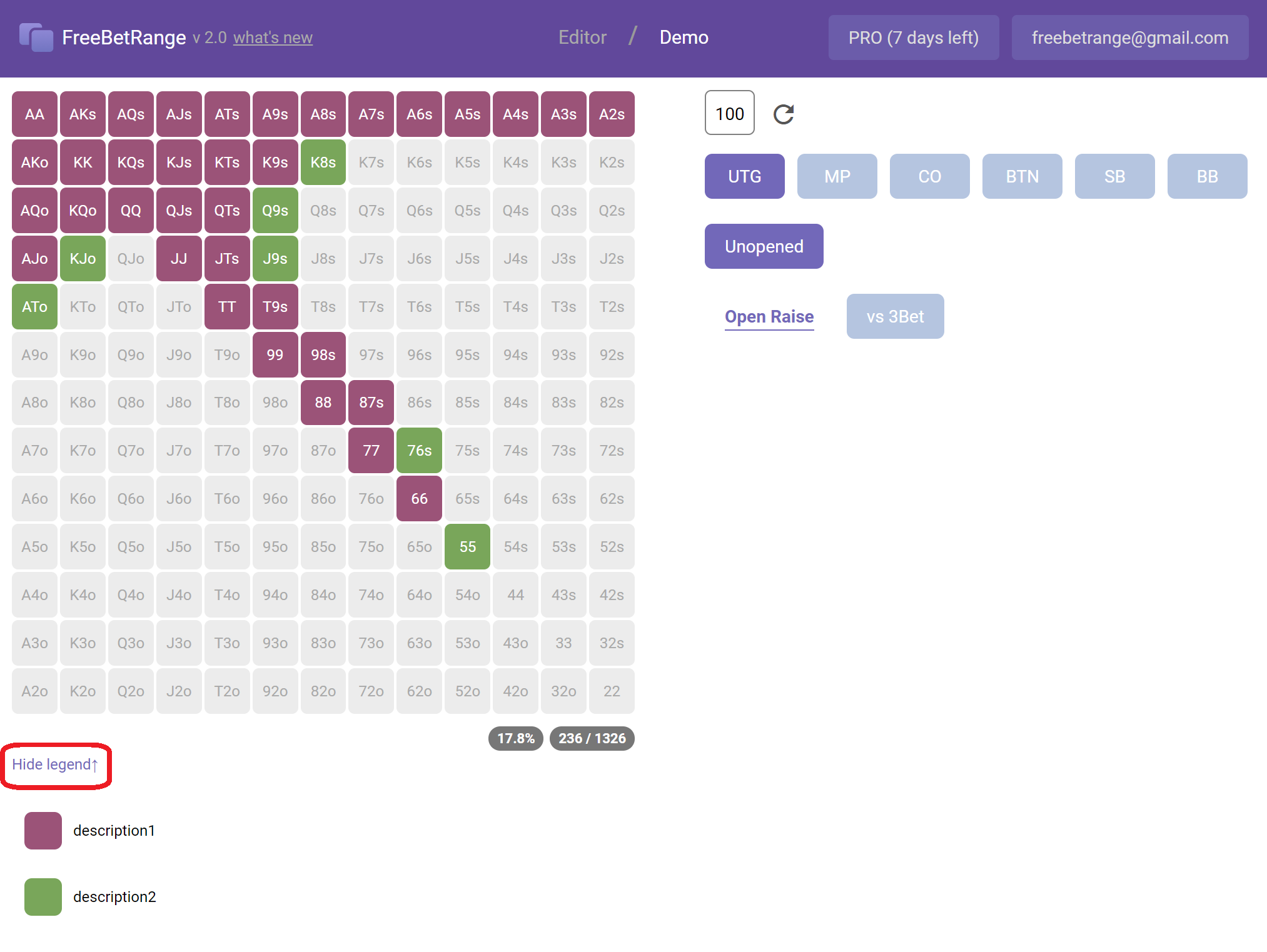 # 05/20/2021
# 1. Design update
We've made a modern minimalistic design for more convenient working with ranges. Also, dark theme requested by many users has been added. You can switch themes from the user menu.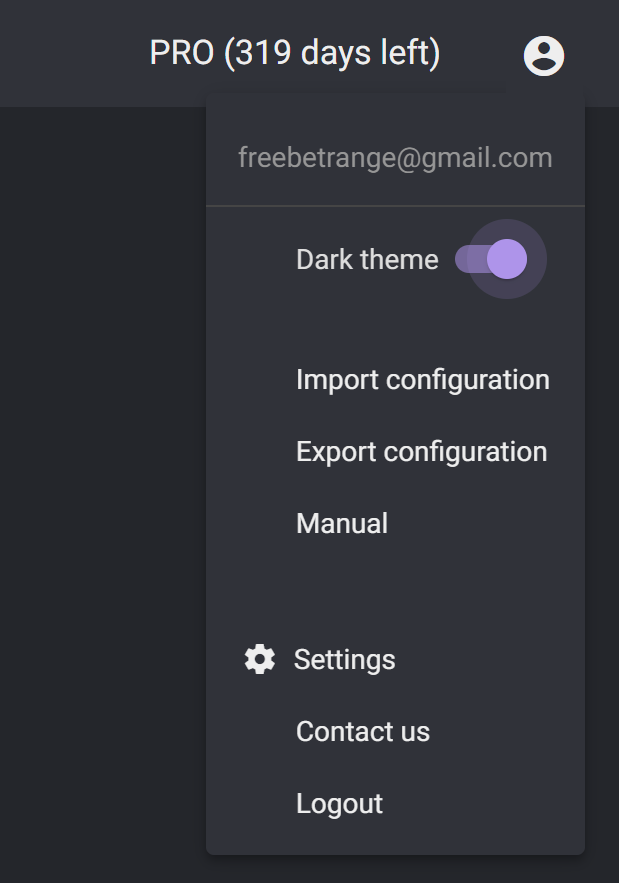 Due to the constant improvement and expansion of FreeBetRange's capabilities, we decided to make a complete user guide. It will be constantly updated as new functionality is added.
You can now select a custom color of the imported range. Also, there is a new option Rewrite current range (available in PRO), which is turned on by default. By turning it off, you can import a few solver strategies into the same range.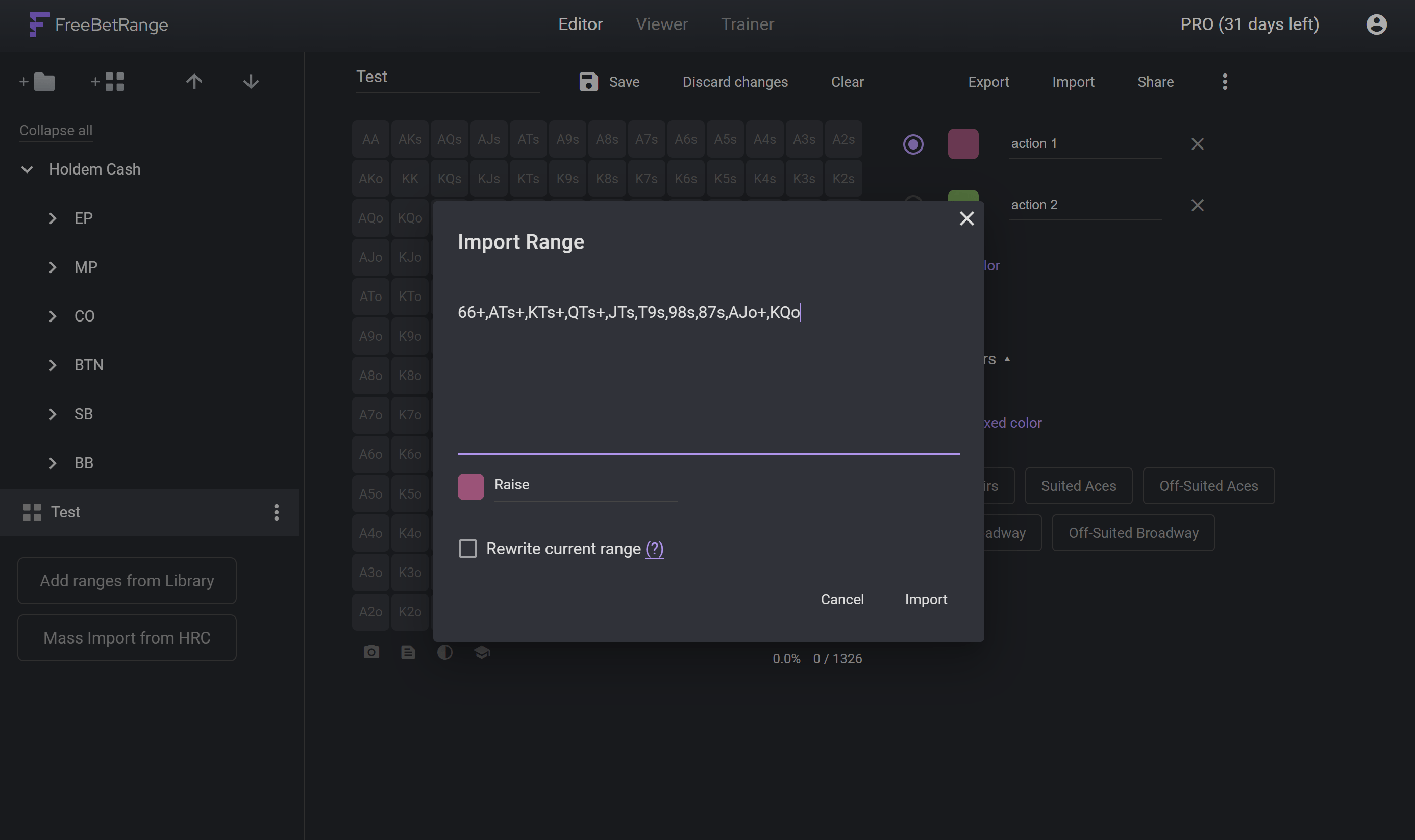 Simple, but effective feature. Now you can create a copy of existing color by one click.

Now the most frequently used values are marked by points. You can quickly set the slider to the desired weight.

At the stage of development, PRO version was completely free for all users. Now FreeBetRange has become a full-fledged well-tested product with a set of tools for professional players. You can subscribe to PRO version, while the standard version will forever remain free for everyone.
All current PRO users automatically got 1 month PRO for free. You may prolong your license any time, the remaining days won't be lost.
You can find a description of all the advanced features as well as answers to frequently asked questions about the license here.